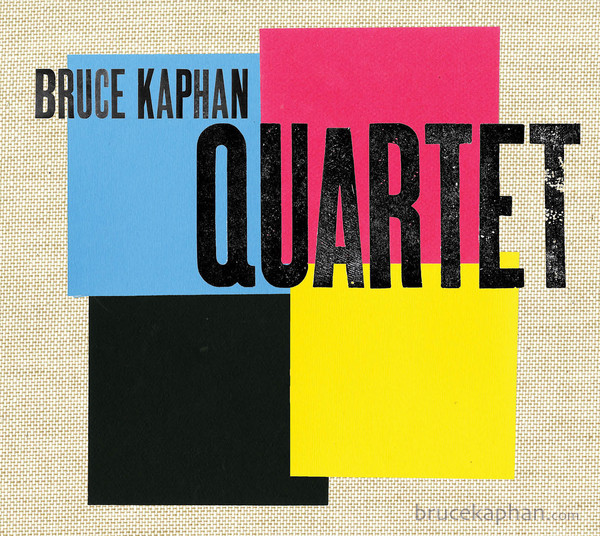 Bruce Kaphan Quartet album art by Victor Krummenacher

One day in 2008, out of the blue came an email from Thomas Dolby. He had been surfing a now defunct website, www.esession, and had come across some examples of my playing there. In addition to being one of the first and most famous artists to have been featured on MTV, by 2001 (and ongoing), Thomas was musical director of the TED Conference. He asked if I'd be interested in performing at the TED. I'd been aware of the TED for years, and was really excited at the prospect of being able to play there! In particular, one of the tracks Thomas had heard at esession.com had stuck with him; it was Clouds from my first solo album, Slider- Ambient Excursions for Pedal Steel Guitar. Clouds features the fretless electric bass playing of Jeffrey Wash. Thomas really liked the sound of pedal steel and fretless bass together, so he specifically requested that we perform as a duo. There was just one little hurdle we had to cross first; we had to submit an audition video that Thomas could play for the "committee" at TED. Problem was that we didn't have any video of playing together as a duo, because we never had played together as a duo. Another problem was that we had never recorded any material together as a duo. Another problem we had was that we had no material to draw from, that we thought we could pull off as a duo... I was pretty skeptical that fretless bass and pedal steel alone would make a viable show. It seemed to me, that since Jeffrey and I are both musicians first and at least speaking for myself, entertainers somewhere further on down the list, just the two of us, playing atmospheric music unaccompanied by any other aural or visual stimuli, were going to need something more interesting to present than just our balding selves, to sweeten the deal. Thomas and I came up with the notion of doing some live looping (live electronic recording/playback). I went out and purchased a Roland RC-50 Loop Station and sank my teeth into the manual (I think I'm over that headache by now...). I began to write some music that could work for this loop-based duo. I sketched 5 tunes total, 3 of which (Aether, Waiting, and Iz Isn't) eventually ended up in the collection which has become the Bruce Kaphan Quartet album. Of the 5 demos I presented to Thomas, Aether was his favorite, so we decided to take the plunge and make a video of Jeffrey and me performing this song. Thomas hooked me up with a videographer, Be Johnny. I submitted the video to Thomas to submit to the committee and our bid to perform was soundly rejected...

I had learned a lot preparing for this audition. To play pedal steel requires the use of both hands, both knees and both feet. Trying to control anything else while so engaged isn't just difficult, at least for me it's foolhardy. I haven't touched the RC-50 since then, and when time allows will probably be posting it on ebay! The good thing to rise from the ashes of the TED rejection was that through the demos Jeffrey and I had made, I could see a clear path to a style of music and sound that had always interested me, but for a variety of reasons I had never pursued on pedal steel. I saw that the direction I wanted to go was going to require trapset and piano players, and both of them were going to need to have what appeared to me to have a very particular set of skills. I've lived and worked in the San Francisco Bay Area my whole life, and through both live playing and years working both as an engineer/producer and player doing session work, my database of players was long. But when it came down to choosing the players I most wanted to work with, suddenly my list was very, very short.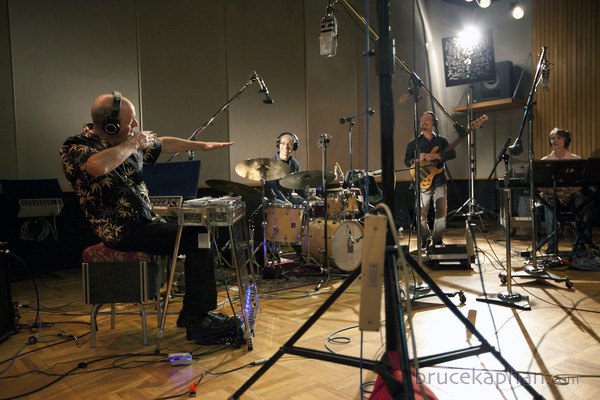 Bruce Kaphan, Jason Lewis, Jeffrey Wash and John R. Burr (photo by James Saxon)
Meet the players featured on this album: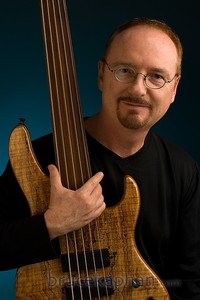 Jeffrey Wash
Jeffrey Wash
Jeffrey Wash is a San Francisco Bay area based bassist, composer/songwriter & arranger. He grew up in a home where music was abundant and diverse. His mother, an accomplished pianist and vocalist, was an admirer of Nina Simone; his father was partial to Johnny Cash; between was a broad range of musical styles - Dixieland, Jazz, Folk, Country, Classical – any of which could end up on the turntable on any given night. This diverse musical exposure defined Jeffrey's early influences.
As a teenager, he discovered rock n roll and, not long after, his mother bought him an electric bass "to keep him out of trouble". Initially a self-taught musician, he spent his late teens and early twenties playing in various rock and country bands in the bars and casinos of Nevada. In the mid 1980's he moved to California and attended Cabrillo College where he studied Jazz arranging with trumpeter Ray Brown, and composition with composer Lou Harrison. True to his roots, he has maintained a pattern of musical eclecticism throughout his career, as evidenced by the diversity of some of the artists he has worked with: Glen Frey, Lou Harrison, Glen Campbell, Huey Lewis, Samba Ngo, Darius Rucker and others.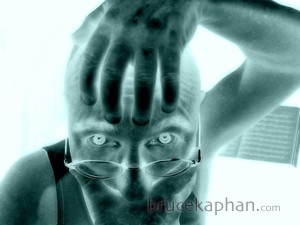 Jeffrey after too many hours of transcription...

I met Jeffrey one day in 1994 when I was asked by a studio manager (for whom I occasionally freelanced as an engineer), to engineer a session on which Jeffrey had been hired to play. I knew immediately that Jeffrey's talent was singular. He knocked me out then and has continued to ever since. Jeffrey has contributed to both of my previous solo albums. Though rejected by the TED conference committee, Thomas Dolby wasn't finished with us quite yet; he asked us both to contribute to his first release in 15 years, A Map of the Floating City.

In addition to playing fretless electric bass on this album, Jeffrey and I co-wrote Been Here Soon and Aether, and he wrote Highways Remembered (which he dedicated to his mom). Jeffrey is also responsible for the arrangement of Birdland, and for being indispensable in chart creation, editing and as another set of very strong ears. This album began with Jeffrey at my side, he was a stalwart collaborator throughout the entire production, and even into post-production. I'm not sure this album would have been made at all without his collaboration; it surely wouldn't have been the same without his contribution!

Besides performing throughout the San Francisco Bay Area with many groups, often with bassist John Shifflett , Mr. Lewis has toured and recorded with Boz Scaggs, Michael Brook, Djivan Gasparyan, Ann Dyer and Taylor Eigsti. He can be heard on numerous recordings as well as TV (Spark on PBS), Video Game (Godfather 2) and Movie Soundtracks (Affliction, Albino Alligator, Ratatouille-"Our Friend the Rat"). Jason has played with a variety of talented musicians including; John Stowell, Gary Burton, Gil Goldstein, James Moody, Mark Murphy, Bob Sheppard, Steve Rodby, Paul McCandles, Norma Winstone, Larry Coryell, Darol Anger, Regina Carter, Johnny Frigo, James Carter, John Handy, Anton Schwartz , Terry Disley, Mark Levine, Peter Apfelbaum, Paul Nagel, and Kurt Elling, and has also performed with the San Jose Symphony and the San Jose Civic Light Opera.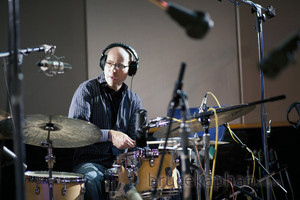 Jason Lewis (photo by James Saxon)
Jason graduated with a B.A. in music from the classical percussion program at San Jose State University, under the direction of Tony Cirone of the San Francisco Symphony. Jason has taught privately in the bay area, coached at the Stanford Jazz Workshop, and has performed clinics at schools throughout the San Jose area.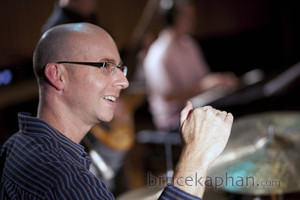 Jason Lewis (photo by James Saxon)

I met Jason one day in 2005 when engineering a session for Pamela Rose's Just For A Thrill album. I was immediately struck with Jason's effervescent creative playing, great groove, and his deep connection to the sounds of the elements in his trapset. Working with Jason on this album was pure pleasure for me. His tracks speak for themselves; he breathed vigor into the tracks and his ever-changing approach kept me inspired throughout the hundreds of listenings necessary to craft these tracks. I feel blessed that Jason agreed to take part on this project.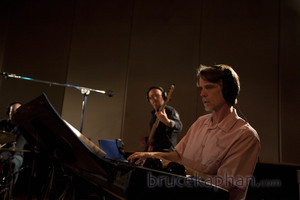 John. R. Burr, with Jeffrey Wash in the background. (photo by James Saxon)
John R. Burr
"Pianist extraordinaire John R. Burr has the most sparkling style since former Allman Brother-turned-Rolling Stone hired hand Chuck Leavell.", wrote The Philadelphia Weekly. Discology wrote: "John R. Burr ranks with the best of the elegant jazzers." John R. has toured with Maria Muldaur, The Alison Brown Quartet, Paul McCandless, Michael Manring, Kathy Kallick, and others. In addition to a feature spot on Windham Hill's Piano Sampler II, Burr's debut solo album, on Compass Records, is Piedmont Avenue.
Burr was first drawn to the piano at the age of 10 when he heard Vince Guaraldi's playing on the Peanut's animated TV specials. He started out as a child prodigy drummer; he was the only child out of 5 siblings not forced to study the piano. It wasn't until he was in high school that his focus turned to the keyboard.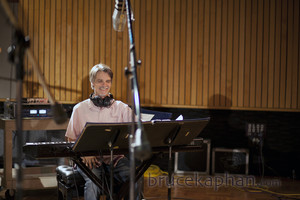 John R. Burr (photo by James Saxon)

I first met John R. while engineering a session for Mike Osborn on his album Cold Hearted Girl. His playing and zany sense of humor left a big impression on me at that time. Over the years our paths have crossed on many diverse sessions. I've heard him burn on jazz, blues, rock and country music, playing authoritatively in each genre. Knowig that John R. had been a long time member of banjoist Alison Brown's band gave me the courage to ask him to play a major role in the music on the Bruce Kaphan Quartet album. Many jazz players I know wouldn't have wanted to find themselves in that context, so I figured that if banjo didn't scare him off, then maybe pedal steel wouldn't either!

In addition to his playing (which speaks for itself), John R. helped me craft the arrangement for Jessica. I also owe him a debt of gratitude for dealing with my peculiar harmonic vocabulary.



Rich Kuhns


Rich Kuhns has been a part of the San Francisco Bay Area music scene for more than twenty-five years. His versatility on piano, accordion and electric keyboards has led to collaborations with Nelson Riddle, a European tour with Harry Belafonte, recording with Richie Cole and accompanying impressionist Frank Gorshin and Brazilian diva Elza Soares. Film work includes the DVD release of Ratatouille, PBS programs including the American Masters Series and numerous commercial TV and radio spots.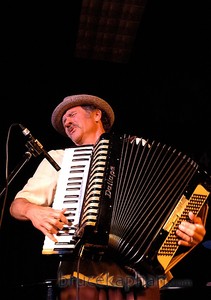 Rich Kuhns
In addition to his above credits, I've counted on Rich for inspired session work since I first met him in the '90's when we were both developing scores for children's interactive learning materials for Computer Curriculum Corporation. Rich invigorated my Crank Calls score with inspired accordion and piano, and played absolutely beautiful accordion on the end credits Angelina, when I was called upon to score Bob Dylan's Masked & Anonymous. When David Byrne hired me to tour in his 1997/1998 Feelings tour, and I knew I was going to be called upon to double on keyboards, I went running to Rich for some guidance on how to play a montuno.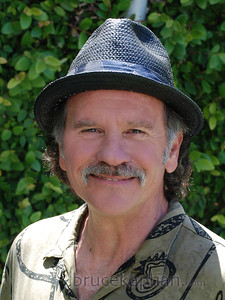 Rich Kuhns

I didn't think of Rich at the outset of making the Bruce Kaphan Quartet album, mostly because I had known Rich as an expert Latin Jazz player. I figured my pedal steel centric music would be a little off the beaten track for him. During the process of making the Quartet album, I needed help analyzing the chord changes I was writing. I turned to Rich, knowing that he was teaching jazz. While helping me with the charts, it became clear that in fact Rich liked the music I was writing. Hey- if Miles Davis can ask Bill Evans or Wynton Kelly to sit one out in favor of the other... Now I'm not comparing myself to Miles or John R., or Rich to Bill or Wynton, but you get my drift. An embarrassment of riches (no not an embarrassment of Rich's!!!). As it turns out, both pianists bring very different interpretive skills to this album. I'm blessed to be in their company.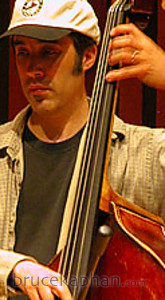 John Wiitala
John Wiitala
John Wiitala has performed with Joe Henderson, James Moody, Benny Golson,and Pete Jolly. He has performed and recorded with Mark Levine, Scott Hamilton, Jessica Williams, Bruce Forman and Wesla Whitfield. John is currently teaching at the Jazz School in Berkeley, Jazz Camp West, and the Stanford Jazz Camp.


Sometimes, it's just got to be upright bass. When I decided to include the old standard What's New on this album, since traditional jazz is not one of my fortés, I concluded I'd better surround myself with as much authentic support as I could find. I've engineered a couple of albums (Good Hands and How Sweet It Is) for guitarist Danny Caron. I had the great good fortune of meeting John through Danny's sessions.













David Glasser of Airshow Mastering was an indispensable team member on this project. First, his mastering work is LUSCIOUS! Beyond that, David couldn't have been a truer friend or more energetic collaborator. By the time it came to mastering, I was so deeply saturated with this music that I was finding it difficult to see the forest for the trees. David (and Jeffrey) pulled me out of the mire, listening deeply to my mixes, making many useful suggestions at a time when I desperately needed them.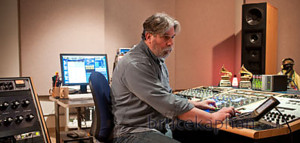 David Glasser of Airshow Mastering

Thanks to Victor Krummenacher for the inspired album artwork, James Saxon for the prolific photographic coverage (and for manning the slate on June 13, 2011!), to Mark Needham and Will Brierre for engineering wizardry, to Alberto Hernandez, III and Jeffrey Wood for running a tight, tight ship at Fantasy, to David Cilberti for directing the video shoot and perseverance in editing, to Bob Barclay and Paul Berg for your lighting expertise and camera work, to Todd Gascon for legal advice and counsel, to Thomas Dolby for lighting a fire in the first place, to Shel Kaphan for making the formerly impossible possible and to Michele White for standing by me through thick and thin and for giving me freedom to do what I do. Air sculptor... right...


Three videos were shot on the quartet's June 13, 2011 Fantasy Studios session. Jessica, below, is the first to be released...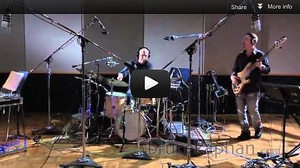 An organic balance of originals along with some killer covers has the Bruce Kaphan Quartet bordering on addictive as they put forth not necessarily a new sound but a celebration of everything that is right and embodies the spirit of improvised music played at an incredibly high level. The first review is in: Critical Jazz