Birdland

For the record, it was all my idea to consider recording Birdland. With a ton of due respect to Jaco Pastorius' benchmark performance on the original Weather Report recording, I had total faith in Jeffrey's ability to play the song with both reverence to the original version, authority, and simultaneously breathe some fresh life into it. As far as I'm concerned, my faith in him has been proven warranted! That said, I'll never forget the look on Jeffrey's face when I first pitched the idea of covering this song to him; it was clear when I did that Jeffrey understood the gravity of my query; if there's a more defining electric fretless bass performance than Jaco's on the original Birdland, I'm unaware of it.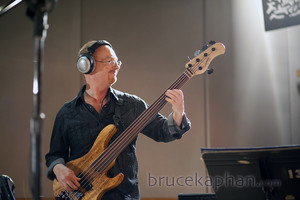 In addition to being a fabulous bass player, Jeffrey is an accomplished arranger. I asked him if he'd be interested in creating an arrangement for the quartet for this song. For each of us in the quartet, it's a tall order covering all the parts from the original recording, but Jeffrey figured out how to divide things up in a way that was pragmatic, yet musical. When I began to see how well the song fit on pedal steel, I was pretty amazed; as unlikely as this might seem, it was as if Joe Zawinul had written it for the instrument! I asked Jeffrey, as the arranger to give his thoughts:




When Bruce first suggested doing this tune I have to confess I was a little freaked out. I
had read that Joe Zawinul had harsh things to say about other's attempts to cover
Weather Report songs. And I'll admit that, as a bassist, I was a little intimidated at the
prospect of doing a cover of one of Jaco's most landmark tracks. Technical challenges
notwithstanding, I was most concerned about how to approach the tune – how much to
change? How much to keep the same?

Bruce's enthusiasm can be contagious, so I got over my trepidation and dove into the
song. Prior to transcribing Birdland, I went looking online for lead sheets, transcriptions
and the like. I found more than I had expected to find, however I ended up doing a fresh
transcription for the sake of accuracy and comprehensiveness. It was a big job. There
was a lot going on in the original studio recording of Birdland and even though I was
gifted with a good pair of ears I am thankful for being able to go to You Tube to see live
footage of Weather Report and to be able to see many close ups of Zawinul's hands on
the keyboards.

Contrary to other transcriptions I had seen, for much of Birdland, Zawinul wasn't playing
'jazz chords', i.e. the more complex chords with added extensions (7-9-11-13) that are
standard fare in jazz nomenclature. He was playing simple triads and bluesy riffs. The
harmonic complexity of the tune derives from the divergent counterpoint between left
and right hands. That's part of what makes Birdland so interesting.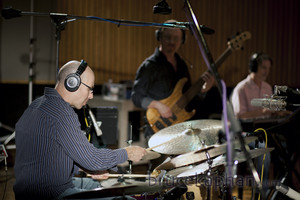 Big thanks to Jeffrey, Jason and John R. for rising to meet the demands of performing this tune!
This track was one of three produced and engineered by Mark Needham at Fantasy Studios, Studio A, on June 13, 2011. David Cilberti led a video crew and shot the session. Videos of the making of Birdland, and the other two tracks we recorded that day, the Allman Bros. Band classic Jessica and Bob Haggart's 1939 classic What's New are available at youtube.