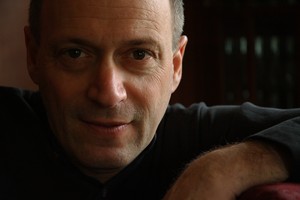 photo by Jeri Jones, San Francisco
Biography
Many musicians' life stories have two sides to them. In Bruce Kaphan's case, it might be closer to three or even four sides. While he has walked some "traditional" paths, similar to where many have trod (to the point of being cliché) he has also taken some side-trips and explored unusual paths, some which mark him as a pioneer, starting with, of course, his instrument of choice- the pedal steel guitar, an instrument so closely associated with country music that it may seem heretical to even consider it aligned with other genres. But, let's take a step back.
If you've been paying attention to contemporary instrumental music these days, you're getting used to seeing (or hearing) artists take their instruments and do unusual things with them, e.g. Jeff Pearce's Chapman Stick, Tom Heasley's tuba, Caryn Lin's electric violin, and a few others. Many of these folks get lumped into the cyclonic mishmash that ends up being labeled "ambient," or "new age music." With his album Slider- Ambient Excursions for Pedal Steel Guitar (Hearts of Space, 2000) Bruce Kaphan threw his musician's hat into this ring. The music on Slider unveiled a unique new personality for the pedal steel guitar, or as Kaphan himself states "…there are a few fringe [pedal steel] players such as myself who've taken it [the instrument] where I'm sure some of the 'purists' might assume 'it don't belong.' "
In response to why he has chosen to pursue this singular musical vision, Kaphan relays his early love for the improvisatory ground-breaking fusion music which came out of the San Francisco scene, played by groups such as the Grateful Dead and Quicksilver Messenger Service, as well as the emergence at that same time of Indian music (helped along by the Beatles' bringing it to the mainstream public's attention). Finally, it was the instrument's specific qualities themselves, as Kaphan describes "…a fluid sound [which] provides an extremely rich palette for exploring all sorts of musical possibilities."
Just how did Bruce Kaphan, the exploratory pedal steel player, arrive at Hybrid, his second solo recording? Traveling a long, arduous, single-mindedly dedicated, and undeterred-despite-obstacles path, it would seem. Sure, along the way he had the usual flirtations with bands as a teenager (the cliché element in his beginnings), but happenstance interceded and Kaphan actually penetrated the music business more as a studio technician/engineer/producer and sideman (on, of course, the pedal steel guitar) than trying to be a "big name star" right out of the blocks. Well, it wasn't just happenstance as it turns out, but also his steely determination to make a legitimate living in the music business, whatever it took. This certainly flies in the face of many "ambient" musicians who pursue music more as a non-profitable hobby (while also ascribing the typical "starving artist" label to themselves). Kaphan was having none of that, thankyouverymuch! Instead, he knuckled under and just kept plugging away (to the tune of more than 169 albums in his discography on which he either played or had in hand in production or engineering). As he states matter of factly "…the majority of my career path has been defined by the need to work to survive. I've done the work that came my way."
Bruce Kaphan's musical life story may contain some fairly typical components (if one has read many artist bios), e.g. took piano lessons, learned to play guitar, dabbled in pop/rock bands, proclaimed that discovering the Beatles "…changed my whole universe." However, upon close inspection, one observes that at many points in his life, he chose an alternate path. Perhaps the biggest deviation was his resolve to become a kick-ass-and-take-names pedal steel guitarist, one who has played with or recorded for some impressive names (yes, here's the ubiquitous name-dropping one always sees in a bio, but in this case, it is impressive: REM, Jewel, The Black Crowes, Love and Rockets, and no less a genius than John Lee Hooker), not to mention his membership in the band American Music Club, about which Jason Ankeny (on allmusic.com) writes "…lauded San Francisco-based band [which] over the course of nine acclaimed albums…tied together the disparate strands of the American musical fabric - rock, folk, country, punk, even lounge schmaltz - into a remarkably distinct and riveting whole, creating a brilliant and cohesive body of work dappled by moments of haunting beauty and impenetrable darkness." None too shabby, ya gotta admit!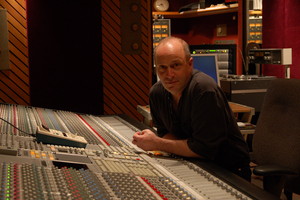 photo by James Saxon

For those who've heard Slider, Hybrid will prove to be an ear-opening and mind-expanding experience as Kaphan is joined by numerous other musicians (whereas Slider featured one guest player on one track only) and the assembled musicians traverse a broad landscape of musical styles and moods (witness the presence of such disparate instruments as ukulele, tabla, cello, congas, piano, and fretless bass, not to mention Kaphan's own keyboards, guitar, and pedal steel).

While it may be appear to be just another one of the prevalent clichés found in bios such as this one, Bruce Kaphan's sincerity is not just palpable but utterly convincing when he states "My greatest ambition for my listeners is to be carried away by my music. Music has this incredible potential for connecting us with our inner selves…I feel very rewarded when I know I've helped someone enhance and enrich their inner life."

Bruce Kaphan- a consummate and dedicated musician seeking to push the envelope of his instrument and reach new unexplored heights, yet also possessed of a go-to-work-everyday-to-pay-the-bills-ethic, a true professional who is as comfortable working in relative anonymity behind the scenes as he is stepping into the spotlight (despite playing "…an instrument that has often been relegated to cameo [appearances]." Can you say "Self-made man?" I knew you could!



Autobiography
I can remember having music in my head as far back as I can remember anything. My parents had a piano - my mother had played at some time in her pre-married life. My first musical training came in the form of piano lessons when I was seven years old. These lessons didn't go particularly well, probably lasting less than a year.
My next musical training came in public school when I was ten years old. School instruments were available on a first come, first served basis, with older students getting first priority. By the time I got to choose my instrument, nothing I wanted to play was left. I bought myself a pair of drumsticks and a practice pad. I played drums in the school orchestra. I still feel sorry for the poor teacher who had to "conduct" this rag-tag group of pitch-less, tempo-less, petulant imps.
Over time I collected parts of a drumset until at age twelve I finally had enough bits to be in my first rock band. We wrote some of our own music and played some covers. By this time the British invasion was in full swing. Especially The Beatles changed my whole universe. My interest in Indian music traces directly back to their use of Indian instruments. The Beatles' use of traditional orchestral instrumentation sparked an interest in conventional instrumentation that exists to this day.
Through the remainder of my school years, I continued playing drums, but I also took up guitar and bass. In my first year of high school, I played drums in the school orchestra. In my second year, I took up the bass viol in orchestra, and electric bass in the stage band, finally gluing pitch reading into the music notation reading skills that had thus far only cemented rhythm reading. Outside school I was spending more and more time playing guitar and piano and writing pop songs. During these years I was in more bands than I can remember, playing mostly original songs. None of these bands played publicly more than a handful of times. Throughout my junior high and high school days, the sixties were raging. The San Francisco Bay Area was a hotbed of musical experience. I developed an affinity for local bands like the Quicksilver Messenger Service and the Grateful Dead. In retrospect, although my grandmother had reasonably good musical taste- the likes of Louis Armstrong and Nat "King" Cole, music was barely present in my home life. The San Francisco bands turned me on to improvisation. Also, it was during these years that Indian music became pretty popular in the Bay Area. To this day, the most memorable live shows I've ever seen were Ali Akbar Khan concerts. My musical tastes were cemented in appreciation of improvisation.
I went to college at the University of California at Santa Cruz, but only for two quarters. At this time I was absolutely sure that I was going to be a musician or bust, or both... I was in a band at the time based on the great tradition of the '60's San Francisco bands- lots of improvisation in a pop/rock band setting.
I chose the band over school. I moved into a house in Palo Alto with some of these musicians. We had a somewhat soundproofed basement with a little bit of recording gear. This is where I really began devoting myself as fully as possible to being a musician. I had a day job repairing guitars for a guitar shop in Menlo Park, called "Guitars Unlimited". I began to meet more musicians and eventually formed yet another band around a "professional" singer named Tommy Warren. It was with that band that I played my first "professional" gig at a bar in Los Gatos called "The Iron Door". We played soul music for the most part. During this period I was also in a bluegrass band called at first "The Sons of the Mayonnaise", later "The Silicon Valley Boys". I was in a band called "Bozon", which played aggressive, through-composed fusion. At this time my interests had expanded to include more jazz; artists such as Pat Metheny, the Dixie Dregs, Freddie Hubbard, McCoy Tyner, Didier Lockwood, Terje Rypdal, Pat Martino, and a bunch of others filled my listening/studying. Sometimes I would even transcribe their work. I was writing more and more instrumental music, and studying guitar harder than ever before.
In 1976 a pedal steel guitar was traded in at Guitars Unlimited. I had never been a country music fan, but steel had found a few inroads into pop music. Paul McCartney had used Lloyd Green on his first solo record, Bob Dylan used Pete Drake on Nashville Skyline, Crosby Stills and Nash had used Jerry Garcia on "Teach Your Children Well". I started messing around with this traded in steel- it was a Sho-Bud "Maverick" student model. I started figuring out things that would incorporate into the various bands I was in. Eventually I began carrying the steel to various gigs. Eventually I became proficient enough to think about playing country music. At this point in history, guitar players were a nickel a dozen. I desperately wanted to be a full-time musician. There were very few steel players at that time (that really hasn't changed much over the years). I thought that playing country steel well might equate with my aspiration to play full-time. I was right.
I kept at the country gigs (playing guitar and pedal steel) until I had landed one of the biggest gigs in the region. I was in the house band, playing five nights a week at San Jose's "Saddle Rack" for most of four and a half years. I met some really great players during that period. I was playing so much that I developed tendonitis. Soon I could no longer play guitar at all. Eventually I had to quit playing altogether (for a year). Before I did, I had played honky-tonks, casinos, bars, nightclubs, barbecues, rodeos and anything else you could imagine, over the entire western states.
My interest in recording engineering goes back to when I was in high school. I wanted to be able to do "sound-on-sound" recording, and found an old used Revox [A77?] deck. In my post college days in Palo Alto, I partnered with a couple of cohorts to buy a TEAC 3340 four track deck. Possessing the gene that enables humans to become one with machines, I became the de facto recording engineer. We made a bunch of recordings that became less and less satisfying, the more tracks you added. Eventually I became so frustrated with the sound quality that I wouldn't even bother trying to use that machine anymore. In 1979, I caught a lucky break. A well-to-do customer at Guitars Unlimited owned a large [Amek] console and in trade for studio time, it was parked at a local studio, Music Annex. I became able to purchase chunks of studio time from him, at a greatly reduced rate from which the studio normally sold. This infuriated the studio owner, who I believe to this day still holds a grudge toward me. I didn't have quite enough knowledge to operate this big studio, so I hired an engineer. He had a problem showing up all the time (it was the seventies, hint, hint, nudge, nudge...). On one of his no-shows, I asked the chief engineer if he would show me enough to allow me to engineer my own sessions. He did just that. Finally I was working with Neves, Neumanns and the like. It was a revelation to be able to get hi-fi sound!
When in 1986 I developed tendonitis, I took a full-time [more like 100 hours a week] job at Dragon Studios in Redwood City, CA. Dragon Studios began as a sixteen track recording facility, and while I was there, it developed into an automated 24 track facility. I mostly freelanced there, but worked as an employee for a period of about 18 months. Dragon Studios was ultimately purchased by Music Annex Corp., the studio where I learned to be a professional engineer. With my history as the guy who got in cheaply through the back door there, I decided not to push my luck with the owner. I took a relatively full-time freelancing position at James Daniels Productions, Palo Alto, CA- a company which specialized in audio and video production for high tech. I was originally hired as an audio engineer/sound designer/composer, but as the small shop grew, I grew into editing, writing, producing, and directing video. In addition to producing training and product release videos, we also produced award winning documentaries. James Daniels Productions went out of business in 1996, but before it did it had provided me a perfect source of income, filling the time between tours and gigs.
One day in 1988 I got a call from a guy with whom I had been in a few bands, from high school on. He was now in a band called American Music Club. He asked me to do a session on pedal steel guitar. I played on "Firefly" and "Blue & Grey Shirt", two songs destined to be released on a Frontier Records release called "California". When I got a copy of the finished album, I was intrigued by the band's direction, and although my roots of learning pedal steel were based in non-country music, I had focused heavily on playing country music ever since, to survive. I thought that American Music Club could be a good fit for me. It was clear that I could develop a lot of ideas I'd had since I started playing steel, ideas which had never had an opportunity to grow. I begged my way into the band. With American Music Club, I did concerts throughout the USA, Canada and Europe, Alias Records released "Everclear" (which I co-produced and engineered). It was named one of the best 5 albums (alongside Guns & Roses, U2, Nirvana and R.E.M.) of 1992 in a Rolling Stone Magazine "Critic's Pick". This led to recording contracts with Warner Bros. and Virgin Records. Through notice of my work with AMC, I played pedal steel on recordings for REM, Jewel, The Black Crowes, Love and Rockets, Francesco de Gregori, Chris Isaak, Red House Painters, The Jellyfish, and others. Past highlights include recording for John Lee Hooker on his Grammy nominated "Jealous", and Grammy winning "Chill Out". I spent most of 1997-1998 on the road playing in David Byrne's (formerly of The Talking Heads) band. Since then, I have focused on a mix of film music scoring and sound design, producing albums for a variety of Bay Area artists and bands, and doing my first solo album for Hearts of Space Records. In late 2002, I "adapted" the score to the Spitfire Pictures film Masked & Anonymous, starring and featuring the music of Bob Dylan. In early 2003, Spectrum Films released a film for which I co-composed the score, No Easy Way. For a complete discography, please go to the discography page of this website.
It has come to our attention that there is more than one way to spell Bruce Kaphan. We have see it spelled "Bruce Kaplan," "Bruce Kapan," "Bruce Cappin," "Bruce Kapin," "Bruce Capon..." among others. In truth is it should be spelled "Bruce Kaphan." Of course people trying to find this site by Googleing "Bruce Kaplan," "Bruce Kapan," "Bruce Cappin," "Bruce Kapin" or "Bruce Capon" might have a difficult time trying to find the correct pedal steel guitar player who has the CDs Slider and Hybrid. It is for them that we have inserted this paragraph with the alternative spellings (Bruce Kaplan, Bruce Kapan, Bruce Cappin, Bruce Kapin, and Bruce Capon) so that their search engine of choice can more directly lead them here.